St Anne's Catholic Church
St Anne's Catholic Church, 10 Highfield Road, Chertsey, KT16 8BU United Kingdom
St. Anne's Catholic Church is located on the corner of Eastworth Road and Highfield Road.  There is no dedicated car park for the church. However, St Anne's School car park is available on Sundays for those attending Mass.
Take a virtual tour of St. Anne's!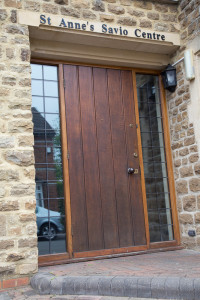 The main entrance to the Savio Centre is on the side of the church facing Highfield Road.
Salesian House, 1 Salesian Gardens, Chertsey, Surrey KT16 8SG
St Anne's Catholic Primary School – Parking facility
St Anne's Catholic Primary School, Free Prae Road, Chertsey KT16 8ET
St Anne's Catholic Primary school car park is available for parishioners and visitors to use to attend Mass on Sunday mornings.  Please make use of this facility in order to minimise congestion on roads surrounding the church.